A Few Anecdotes
In the turbulent days at the end of the Edo Period, our Tea House was regarded as a secret headquarter of Emperor's side, and was often invaded by Shinsengumi (Shogun-side picked troops), who were searching for Lord Iwakura, one of the Emperor side brains and the Meiji government's cabinet members. There still remains the swords cuts made on those occasions of attacks on the wallsand pillars of our Tea House.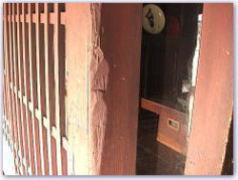 In his Gubijinso (1907), Soseki Natsume, the eminent writer of Japan, writes as follows:
I should have stayed at Heihachi Tea House all day today . We wouldn't make it to the top of the mountain.
I wonder how more miles we have to go on.
This passage allows us to visualize Soseki Natsume enjoying dining with his friends at Heihachi Tea House.
Roka Tokutomi, another eminent writer of Japan, also mentions our Inn in his writings.